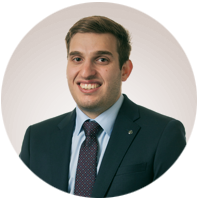 Christopher works closely with our Partners and Senior Lawyers across a range of legal areas. He practices mainly in our Adelaide Office, and also regularly visits our country offices.
Christopher is admitted to the Supreme Court of South Australia and the High Court of Australia. He is also a member of the Law Society of South Australia and the Queensland Law Society.
Christopher previously practised in country Queensland at VC Catanzaro Solicitors. Whilst there, he gained experience in a variety of areas, with a strong focus on Commercial law, Agricultural law and Conveyancing, as many of his clients came from a farming background. At Hume, Taylor & Co, Christopher will be developing these areas of practice and specialising in Commercial Law, Leasing, Conveyancing and Wills and Estates.
In his spare time, Christopher enjoys spending time with family and friends, listening to music, going on walks with his dog and watching the Adelaide Crows.
Contact Hume Taylor & Co to book an appointment with Christopher today.